INTRODUCTION
Mr. Hariman Sharma, a farmer who have successfully grown an apple variety that can bear fruits in warmer regions. He was born on April 4, 1956 to Shri Dayaram, Village Gllasin, Post Office Dabhla, Tehsil Ghumarwin, District Bilaspur, Himachal Pradesh. His mother left him when he was three days old only due to which he was adopted by Sh. Shri Ridku Ram, village Paniala, P.O. Kothi, Tehsil Ghumarwin where he was brought up. He studied till class 10th and thereafter took to farming.
Taking special interest in agriculture sector, Mr. Hariman successfully grown an apple variety in district Bilaspur of Himachal Pradesh and along with; he succeeded in growing apples, mangoes, pomegranates, litchi, apricot, kiwis, avocado, sapodilla (Chiku) and coffee in the same field.
On his own initiative farmers from the 7 Districts of the Himachal Pradesh have planted 1,00,000 apple saplings which are bearing fruits successfully.
Govt. of Himachal Pradesh appointed him as a member in the Board of Management, Dr. Y.S. Parmar University of Horticulture and Forestry. Currently he is serving as a member in the Research Council of Dr. Y. S. Parmar University of Horticulture and Forestry, Nauni, Solan and also serving as a member of State Level Executive Committee under Mission of Integrated Development of Horticulture (MIDH) Project by Govt. of Himachal Pradesh.
Scientists of NIF have done research on HRMN-99 variety and get saplings planted in all 29 states of India, out of which HRMN-99 variety has started giving fruits in 23 states. Not only this, plants in Bangladesh, Nepal, Germany and Jambia are also giving fruit successfully.
PREFACE
Till the year 2005, no one even imagine that the apple plants can grow on the snowy hills is successfully grown with Mango and Pomegranate in the lower Himachal Pradesh, which is only 700 meters above sea level and where temperature is as high as 40 to 450C during summers.
Although a research centre was opened by the Himachal Pradesh Govt. for cultivation of apples in lower Himachal Pradesh in the year 1965 in Bagthan area of district Sirmour at a height of only 800 meters. After spending crores of rupees, scientists were not getting any success. Hence the project was discontinued in 1975.
INNOVATION
Traditionally apple can be grown at altitudes ranging from 5000 to 8500 feet above mean sea level in the Himalayan range which experiences 1000 to 1500 hours of chilling. The variety HRMN-99 developed by him can be grown in lower hills and plain areas located at 1800 feet above mean sea level or lesser. This variety requires very little chilling and therefore can fruit in the plains.
When this innovation, spread all over the state through the media, the scientists of the Universities were also surprised and did not believe. Then, on 7th July, 2007, I have called upon then Chief Minister of Himachal Pradesh, Sh. Prem Kumar Dhumal in H.P. Secretariat and presented him 10 Kg apples and 5 Kg Mangoes.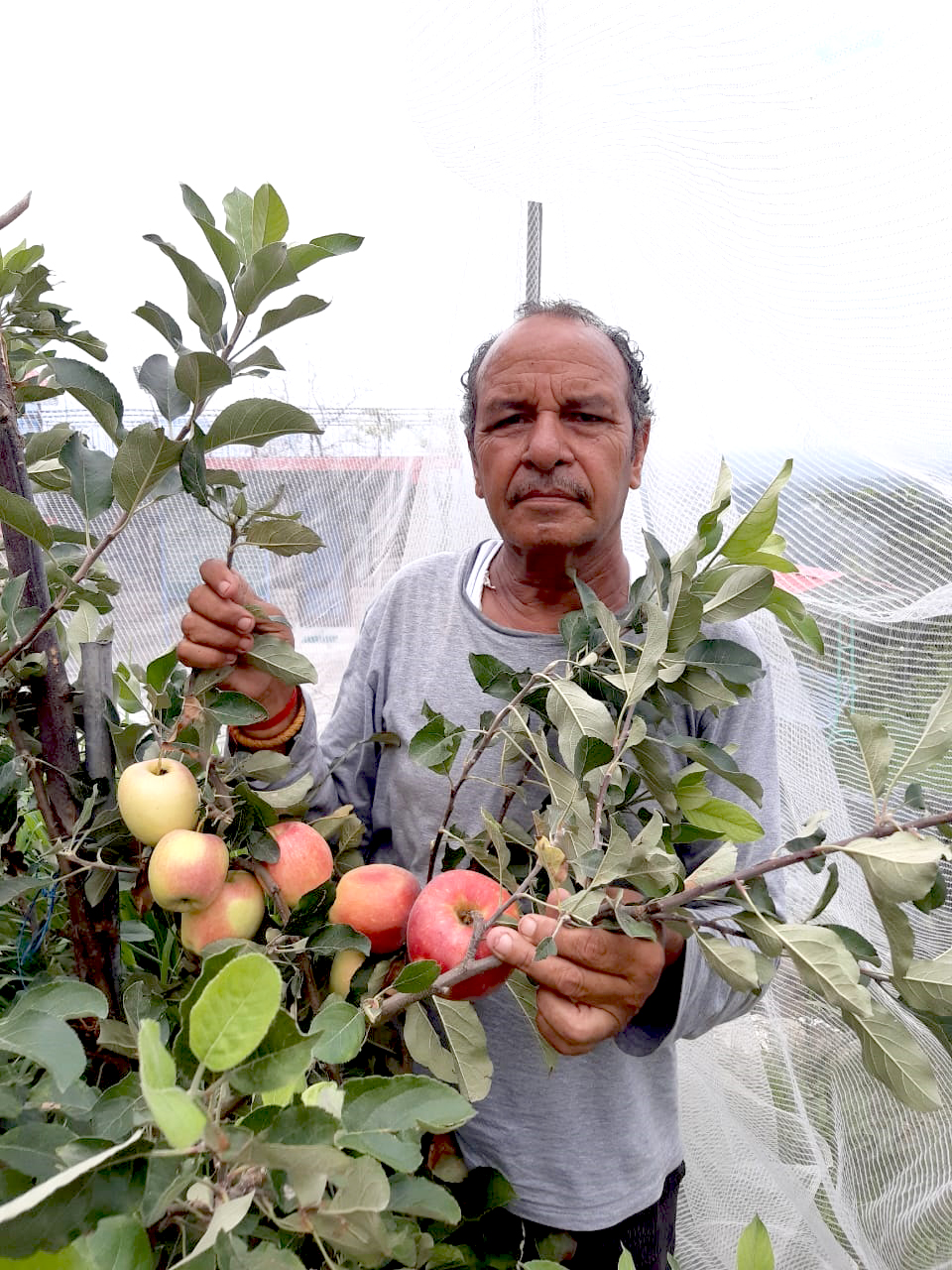 Hariman Sharma
Village Panyala, P.O. Kothi , Tehsil Ghumarwin
District Bilaspur (H.P.) 174021
Mob.: 70185-20244, 94188-67209, 98172-84251
Email: [email protected]
Member : Research Council of Dr. Y. S. Parmar University of Horticulture and Forestry,
Nauni, Solan H.P.
and
State Level Executive Committee under Mission of Integrated Development of Horticulture (MIDH) Project by Govt. of H.P.
He was surprised to know that these apple fruits were grew at Paniyala village at an altitude of 700 meters above sea level and temperature is as high as 40 to 450C. The Hon'ble Chief Minister immediately held a meeting of higher officials of the Department of Agriculture and Horticulture and all were eat apples. On the second day Hariman Sharma along with Directors of Agriculture and Horticulture department came to Paniyala and inspected the farm. On 15 August, 2008, he was honoured with "Prerna Strot Samman Award" by then Chief Minister of Himachal Pradesh, Sh. Prem Kumar Dhumal. After which this cycle continues till today. So far I have received 15 National Awards, 10 State Level Awards and 5 other Awards. Prominent among them are National Innovative Farmer Award given by Hon'ble Agriculture and Farmer's Welfare Minister Govt. of India. Grass Root Innovation and Outstanding traditional Knowledge Award by then President of India Late Sh. Pranab Mukharjee, IARI Fellow Award by MOS Agriculture Govt. of India, Pride of Punjab Haryana Himachal, by then Governer of Himachal Pradesh Acharya Devvrat.
Dr. P.L. Gautam a renowned scientist and former chairperson Plant Protection and Farmer Rights Authority introduced me with the National Innovation Foundation. NIF has extended their support. NIF started plantation of HRMN-99 saplings from 2014 to 2015 for introduction and evaluation trial in different areas of the country. Total of 18000 saplings were planted by NIF in four years with the objective of adaption and fruiting study in three year plants. Interestingly fruiting has been reported in two or three year plants in 23 states of India. I got the full support of NIF (National Innovation Foundation) agency, under the Govt. of Idnia for the promotion of variety developed by me. Sucessful plantation of HRMN-99 variety was also done in Rashtrapati Bhawan, New Delhi with the help of NIF which is now bearing fruits.
RESEARCH & DEVELOPMENT
The fruit quality report from Indian Agriculture Research Institute Amartara, Shimla confirms the better values of HRMN-99 fruits. Morphilogical and SSR DNA finger printing study by NIF and Gujarat State Biotechnology Mission confirms its diversity and superiority over other low chilling varieties. Another study on fruit quality has been done by ICAR Research Complex for NEH Region Manipur. They also confirm its better quality and shelf life of 7 days from the date of receiving sample.
UTILITY
The variety is economically viable for the farmers who live in tropical, subtropical and plain areas of the country. Because they mostly reside on the farming of traditional tropical crops like Mango, Papaya etc and sometimes due to fog or frost their crops get destroyed. No adverse effect of fog or frost has been reported on this variety.
It has remained evergreen for whole year that is why it is better for our environment also.
This variety will also helpful in realizing the dream of Prime Minister for doubling the income of farmers by 2022. As the plant of this variety are planted on the distance of fifteen feet from each other and their will provide space for farmers to grow other crops like vegetables, wheat, maize cereals and fodder for animals.
This is also best option for inclusion in Agro forestry systems.
NIF has filed the application on behalf of me for the registration of HRMN-99 variety under Protection of Plant varieties and Farmer Rights Act 2001. Now plants are being sent to the farmers through courier services in every state of India. So far, about four lack apple saplings have been planted in farms, garden and research centres.
Appeal to All Farmers of India
In view of the huge success of HRMN-99 some vendors are now misleading farmers by insisting that we have HRMN-99 variety of plants which is absolutely wrong. Many vendors are cheating farmers by selling unreal plants of HRMN-99, so all farmers are requested to ask for a bill if any seller asks to provide HRMN-99 pants to you besides us.
HRMN-99 variety has been registered under the Protection of Plant Varieties and Farmer's Rights Authority, Ministry of Agriculture, Govt. of India and also protected by National Innovation Foundation, Ministry of Science and Technology, Govt. of India's Letter No. D.S.D./2-20/128155 dated 07-09-2020 has authorized the Hariman Sharma to grow and sale the HRMN-99 variety. Hariman Sharma has the sole right to prepare HRMN-99 variety. So beware of duplicate sellers who are misleading farmers to earn money.
At Hariman Sharma Apple Nursery on a large scale, three varieties of low chilling apples i.e. HRMN-99, Anna, Dorsett Golden are available at Rs. 70/ Per Plant Grafted on seedling and Rs 270/ Per Plant Grafted on Tissue Culture.